Description
The Ultimate Mushroom Complex ⚗️
Are you looking for the ultimate functional mushroom complex to add to your supplement stack? Look no further. Our Mushroom Essentials Complex is packed with our four best-selling functional mushroom extracts, all in one formula.
The Mushroom Essentials Complex contains Lion's Mane, Cordyceps, Chaga, and Reishi, creating a diverse and versatile mix with a wide range of benefits.
Lion's Mane supports focus and memory, Cordyceps supports energy and physical performance, Chaga aids immune support, and Reishi supports sleep and a calm state of mind.
Together, these four mushrooms provide a supreme blend that is easy to consume and saves you the hassle of having to order different packs.
Ingredients of the Mushroom Essentials Complex
This functional mushroom extract contains Lion's Mane (Hericium Erinaceus), Cordyceps Militaris, Reishi (Ganoderma Lucidum), and Chaga (Inonotus Obliquus). The primary active ingredients are polysaccharides, triterpenes, beta-glucans, erinacines, hericenones, betulinic acid, cordycepin, and adenosine.
Other nutrients found in these mushrooms include vitamins, minerals, and antioxidants. The combination of these nutrients and bioactive compounds makes this mushroom extract a powerful and versatile natural supplement that can support a variety of health goals.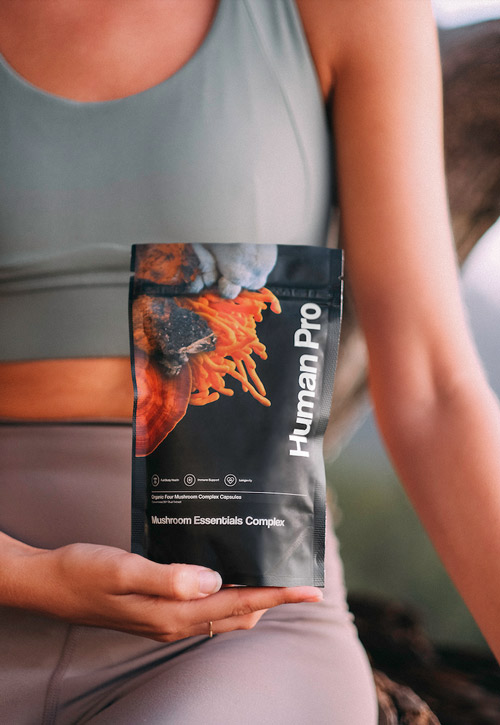 How to use the Mushroom Essentials Complex
Consume with a meal
The daily recommended dosage is 4 capsules
Can be taken all at once or throughout the day
420 mg per capsule(100% extract, no fillers & GMO-free)
When not to use the Mushroom Essentials Complex
During pregnancy
While breastfeeding
When you have an allergy to any of the ingredients
If in doubt, consult your doctor or pharmacist